Each year, due primarily to Brother (and to a lesser degree, to HP), the stable of available tabloid-capable (11×17-inch) all-in-one (AIO) printers widens. Many of them can print, copy, scan, and fax, and the AIOs themselves get less expensive to buy and to use.
Nearly all of Brother's Business Smart Plus AIOs, among them the Brother MFC-J5830DW ($199.99 at Amazon), support at least tabloid-size printing, and several, including the recent Editors' Choice Brother MFC-J6935DW ($329.99 at Amazon), come with scanners and automatic document feeders (ADFs) that can handle wide documents for scans, copies, and faxes.
While Brother makes many wide-format printers with a myriad of feature configurations, HP up until now offered only one, the 
Officejet Pro 7740
 (
Check on Amazon at Amazon
), that had the ability to print, copy, scan, and fax in tabloid. Now, though, the Palo Alto printer giant is offering a pared-down version of the 7740, the $199.99-list Officejet Pro 7720.(
$199.99 at Amazon
) It's different from the 7740 in several key ways. The newer model, for instance, comes with only one 250-sheet paper-input tray, versus the 7740's two 250-sheet cassettes.
The biggest difference between these two Officejets, though, is that the newer one has a smaller scanner and ADF, rendering it capable of copying, scanning, and faxing only legal-size (8.5×14-inch) pages. Aside from the smaller paper-input capacity and the inability to run tabloid-size pages through the ADF and scanner, though, these two Officejets are the spitting image of each other. But as you'll see as you read on, what you give up for the $50 list price difference between them is significant.
We should pause here to add that Epson, too, makes a few wide-format printers meant for small businesses or workgroups, including the WorkForce WF-7610 All-in-One (Check on Amazon at Amazon), the WorkForce WF-7620 All-in-One ($323.49 at Amazon), and the WorkForce ET-16500 EcoTank Wide-Format All-in-One Supertank ($999.99 at Amazon). The difference between the first two is that the latter comes with two 250-sheet paper drawers, while the former has only one. The ET-16500 is one of Epson's "bulk ink" AIOs that comes with tens of thousands of pages' worth of ink in the box, and, as a result, it lists for about $1,000.
Another significant distinction between the Epson models, compared to the HP and Brother AIOs, is that all three of them print wide-format pages up to 13×19 inches, instead of 11×17. All three are simply WorkForce models rather than WorkForce Pro AIOs, meaning that their printheads contain fewer ink-nozzle chips (two chips, as opposed to the four on the WorkForce Pro models' printheads). In addition, the WF-7610 and WF-7620 have been around since 2014; they lack a few recent mobile-connectivity and other features, and, as we'll discuss later, they have substantially higher running costs.
In any case, back to the Officejet Pro 7720, the newest of the bunch. As mentioned, you give up a fair bit versus the Officejet Pro 7740, including the features listed earlier, as well as an ADF capable of scanning and copying two-sided pages automatically. On the other hand, the footprint and price are both smaller, and you get the same exceptional print and copy quality. The 7740 is a highly capable wide-format inkjet with many desirable attributes, and so goes the 7720. Nowadays, though, the competition among tabloid-size inkjet AIOs is brisker than ever.
Read the entire review at Computer Shopper
---
---
PROS

Prints, scans, copies, and faxes tabloid-size pages. Competitively fast. Low running costs. Single-pass auto-duplexing ADF. Three paper input sources. Good print quality overall.

CONS

Subpar graphics.

BOTTOM LINE

This business-centric color inkjet all-in-one printer is relatively fast, with good print quality, competitively low running costs, and flexible paper handling.
HP OfficeJet Pro 7740 (Check on Amazon at Amazon), were somewhat rare, and expensive. But not anymore. One reason is that a few years ago Brother made them a staple in its Business Smart Pro line, which includes the MFC-J6930DW ($299.99) ($239.00 at Amazon) reviewed here. Like the HP model, the MFC-J6930DW comes with two big paper input trays, a single-pass auto-duplexing automatic document feeder (ADF), and a slew of mobile connectivity features. This Brother AIO prints well overall, with competitively low running costs, and it's relatively fast, but its graphics output could be better. Despite costing a little more upfront, but with lower running costs overall, the MFC-J6930DW is a viable alternative to the OfficeJet 7740 for low-to-moderate volume printing in a small or micro office or workgroup.

Not long ago, A3 (tabloid, or 11-by-17-inch) all-in-one (AIO) printers, such as the Editors' Choice 
Let's say that your organization (or your very, very busy home office) needs to churn out 20,000 or so high-quality prints each month, and some of them (perhaps all of them) must be tabloid-size (11×17 inches). You're considering purchasing one of Brother's Business Smart Plus all-in-one (AIO) printers—maybe our highly capable Editors' Choice pick, MFC-J6935DW ($329.99 at Amazon), or perhaps the HP Officejet Pro 7740 Wide-Format All-in-One (Check on Amazon at Amazon). And why not? Both are logical choices: They print exceptional tabloid-size pages, and they both have maximum monthly duty cycles of 30,000 pages—10,000 pages more than what you need to print, right?
Well, not so fast.
Let's start with that 30,000-page monthly duty cycle. The more important number—the one not printed on the box—is the recommended monthly page volume, which on the Brother machine we mentioned above is up to 2,000 pages monthly. The Officejet's recommended volume is up to 1,500 pages per month. As well-built as these machines are, if you actually pushed them to their maximum monthly duty cycle rating each month, you'd likely be shortening their service life. But that's not all.
Some rough napkin math: Printing 20,000 pages per month, excluding weekends and holidays, comes out to about 1,000 pages per workday. (30,000 pages per month equals about 1,500 pages per day.) If you used one of these midrange business printers to churn out these kinds of volumes, day in and day out, you'd have to fill their paper drawers several times a day, and—especially if you're printing wide-format, which uses about twice the ink as a standard letter-size page, all else being equal—you'd be changing the ink cartridges twice a day, perhaps more. If you truly require this kind of volume, especially on tabloid-size pages, you need a machine designed to handle this much printing. And that is where a model like the $2,199 HP PageWide Pro 750dw we're reviewing here today comes in.
Yes, that's a lot of money for a printer, especially an inkjet printer. But as you read on, you'll see that, first, HP PageWide printers are not ordinary inkjet printers, and the PageWide Pro 750dw is no ordinary PageWide machine.
In fact, given its size, volume, and some other specs, we think that it's better suited to HP's PageWide Enterprise line, like the HP PageWide Enterprise Color 556dn (Check on Amazon at Amazon) reviewed at our sister site, PCMag, a while back. The PageWide Pro 750dw is, for example, designed to support up to 40 networked users, rather than the five or so users recommended for the smaller inkjets we've been talking about.
In fact, the PageWide Pro 750dw is much more in line with a high-volume color laser printer, such as the Dell Color Smart Printer S5840Cdn ($1,343.88 at Amazon) we reviewed late last year. A primary difference between it and the 750dw is, of course, that the HP model can print at sizes up to tabloid, which is one reason the PageWide model costs so much. High-volume laser-class printers that can do wide-format, such as the OKI C831n ($1,699 MSRP) (Out of stock at Amazon) and OKI C831dn ($1,929) (Check on Amazon at Amazon),  and wide-format laser alternatives (such as our 750dw), typically have high price tags. But the good news is, at least in the case of the HP model, is that its running costs are reasonable once you've bought the printer.
In addition, the PageWide Pro 750dw is highly expandable. You can boost the paper capacity, as we'll discuss later on, over 4,000 sheets. Plus, according to HP, in the fall of 2017 numerous copier-like finishing options (among them a stapler and a collator) will come available.
The PageWide Pro 750dw is an immense, and immensely well-built, volume printer meant to endure blizzards of wide-format printing month after month. Our only real quibble with it is that it's somewhat expensive. But then, if you plan to print upward of 10,000 pages each month, you need a Humvee, not a Chevy Silverado.
Read the entire review at Computer Shopper
---
It wasn't all that long ago that wide-format inkjet printers (models that handle paper larger than legal-size, or 8.5×14 inches) were not only rare, but also rather expensive. Even today, most of the major printer manufacturers—HP, Epson, Canon—offer only a few wide-format machines.
But Brother has changed all that, offering most of its Business Smart and Business Smart Plus all-in-one (print/copy/scan/fax) models as tabloid-size-capable (11×17-inch) machines. Nowadays, you can choose from more than a handful of wide-format inkjet models, among them the
Brother MFC-J5930DW
 (
$299.99 at Amazon
) we just reviewed, as well as today's review unit, the $349.99-list Brother MFC-J6935DW.(
$329.99 at Amazon
)
Direct competitors with the HP Officejet Pro 7740 All-in-One (Check on Amazon at Amazon), the difference between these two Brother models is that the MFC-J6935DW (like the Officejet model) not only prints tabloid-size pages, but can also scan, copy, and fax them. The MFC-J5930DW, on the other hand, can only print wide-format documents.
It stands to reason that some small and medium-size offices that need to print tabloid-size documents will need to process them in other ways, too. If your day-to-day work calls for scanning, copying, or faxing wide-format pages, the $50 upgrade from the MFC-J5930DW to the MFC-J6935DW is a bargain.
What really makes these Brother Business Smart Plus AIOs attractive is that, compared to their Officejet competitor (as well as Epson's WorkForce WF-7620 All-in-One ($323.49 at Amazon), a two-paper-drawer version of the WorkForce WF-7610 (Check on Amazon at Amazon) we reviewed a while back), the Brother AIOs are part of that company's INKvestment line. INKvestment printers, similar in broad concept to Epson's EcoTank and Canon's MegaTank (in that you pay more up front for cheaper ink later), deliver low-per page costs, although Brother's approach is somewhat different. Where EcoTank and MegaTank printers are "bulk-ink" models that take their ink from reservoirs you fill from bottles, INKvestment printers deploy ink cartridges with high yields and modest prices (on a per-page basis, that is).
To our knowledge, aside from Brother's INKvestment products, the only other wide-format printer designed around this pay-more-now-to-pay-less-later concept is Epson's $999-list WorkForce ET-16500 EcoTank Wide Format All-in-One Supertank ($999.99 at Amazon). The advantage that the WorkForce ET-16500 holds over the Brother MFC-J6935DW is that the former prints wide-format pages up to 13×19 inches, and it has significantly lower running costs. But it's also much slower. (We'll look more closely at the difference in running costs between these two printers in the Cost Per Page section coming up.)
In any case, like the MFC-J5930DW, the MFC-J6935DW is an excellent multifunction business machine. It's reasonably fast, loaded with features, prints well, and costs much less to use than its most direct competitors. As you read on, assuming you need the big inputs and outputs, you'll see that there's just not much to quibble about in this wide-format winner.
Read the entire review at Computer Shopper
---
---
Several of the top printer makers—Canon, Epson, and HP—have come out with, taken together, a profusion of budget-minded wide-format printers here in 2014. But if the number of different wide-format models is any measure, Brother's commitment to this trend is the biggest of all.
In one way or another, each of the machines in Brother's Business Smart line, such as the ever-popular MFC-J4610DW, as well as the Business Smart Pro series, including the MFC-J6920DW, all print tabloid-size (11×17-inch) pages.
While most of the Brother Business Smart models support printing just one tabloid-size page at a time (through a rear override slot), most of the Business Smart Pro all-in-ones (AIOs), such as the MFC-J6920DW, ship with two paper drawers, and at least one of them holds wide-format paper.
In between these two product lines, though, is Brother's Business Smart Plus family of printers, and the subject of this review, the $199.99-list MFC-J5620DW. This model, and the line, is an average of the ones above and below. In the case of the MFC-J5620DW, it comes with only one paper drawer, but as we'll discuss in some detail later on, this AIO lets you print tabloid pages through both that main paper drawer and a rear input slot.
Aside from the tabloid-size printing, the MFC-J5620DW's feature set is about what you'd expect from a $200 business printer. We appreciated the 35-sheet automatic document feeder (ADF), though we'd have liked it even more had it been an auto-duplexing mechanism, for scanning multipage, two-sided originals without our help. And, as we'll get into in the last section of this review, occasionally the graphics output looked a little less than perfect, but the rest of the print quality was on the whole excellent.
The imperfections we saw were the kind you really have to really look for, though, and most people probably wouldn't notice them. And balancing that out, this AIO stands out in another key area, besides tabloid printing: cost per page (CPP). The MFC-J5620DW delivers the very lowest CPPs we've seen from an under-$200 multifunction printer. We're pretty sure it has the lowest CPPs we've seen from a wide-format-capable model, too. (If it isn't, it's very close, on both accounts.)
In fact, aside from Brother's recent Business Smart Pro series models, we don't often see high-volume inkjets with CPPs this low—not unless the AIO costs at least $300 to $400. (Epson's recently released $299.99-MSRP WorkForce Pro WF-4630 All-in-One comes to mind, but, alas, it doesn't support wide-format printing.)
When you're evaluating an inkjet meant for business, remember that it will probably have to churn out more pages than most home printers will. So a realistic ongoing operational cost weighs heavily in our overall assessment, and it should in yours, too. But a low CPP is not all that the MFC-J5620DW has going for it. For what it does (as you'll see on the next page), it's not a hulking, beastly printer—it's relatively small and light.
On the whole, if high-volume inkjet output at a decent cost per page (with respectable speed, and in overall good quality) sounds good to you—well, here's your AIO. Just proceed with caution if graphics-heavy output is what you're after.
Read the entire review at Computer Shopper.
---
If you've poked around the Printers & Scanners section of About.com for any time at all, you don't have to read much here to know that I'm fighting the good fight against exorbitant per-page consumables costs, or the high cost per page (CPP) of ink or toner. In other words, when a printer maker claims that a machine is "high volume," inherent in that claim is the understanding that keeping the printer supplied with ink won't take you to poor house. 
We all know that printer makers make the bulk of their money from selling consumables. However, it's also safe to assume that while most of us feel that, yes, printer manufacturers deserve to earn a profit, the size of said profit should be reasonable. And that's the case with the subject of today's review, Brother's $199.99-list MFC-J5620DW—a full featured all-in-one (AIO) inkjet printer with terrific CPPs—especially for an under-$200 machine.
Read the entire review at About.com
---
It's not often that we see big changes in printer imaging technology—at least not in the print mechanisms themselves. Both inkjet and laser printer technologies have been around for a while, and, for the most part, they have become predictable and stable. Over the past couple of years, though, a couple of printer makers, namely HP and Epson, have done some serious fiddling around with their printheads. Both companies have come up with more-efficient printhead technologies that are less expensive to use. And as a result, certain of their new printers are capable of competing successfully with laser-class printers on many fronts, notably speed, power consumption, and cost per page (CPP).
The first of these "alternative" printhead technologies, HP's PageWide, debuted in a line of high-volume Officejets—the Officejet Pro X series—at the beginning of 2013. We were impressed enough with the two Officejet X models we reviewed (the Officejet Pro X576dw Multifunction Printer and the Officejet Pro X551dw Color Printer) that both received our Editors' Choice Award. Their print speeds and quality were impressive, and the cost per page was low. Much of this was possible because PageWide employs a fixed array of print nozzles that spans the width of the page, rather than the printer relying on the usual moving printhead. In a nutshell, the way it works: The paper moves past the print nozzles, rather than the other way around, and your image or document gets printed a full row at a time.
Both of the Officejet Pro X printers, however, were relatively high-end, high-volume, and high-priced machines meant for business use. Epson, on the other hand, has taken a different approach, as we'll lay out in this, our first review of an Epson printer based on its recently debuted PrecisionCore printhead technology—the $249.99-list WorkForce WF-7610 All-in-One Printer. Similar to PageWide, in that the ink nozzles on the printheads are much denser, the PrecisionCore-based printers we've tested so far have outperformed several of their inkjet and laser counterparts, and some of them are cheaper to use, too. (We'll get into more detail about PrecisionCore in a bit.)
The WF-7610 is one of 11 PrecisionCore models that Epson debuted last month. In a bold move, Epson just up and replaced its entire WorkForce line of small- and medium-business (SMB) AIOs with PrecisionCore-based models. The WF-7610 is one of two wide-format PrecisionCore machines in the initial lot, capable of printing on sheets up to 13×19 inches (also known as "supertabloid" stock). It can also copy, scan, and fax tabloid (11×17-inch) pages. The other wide-format model in the new line, the $299.99-MSRP WorkForce WF-7620 All-in-One Printer, is much the same machine, but with a second 250-sheet drawer.
In addition to being a wide-format machine, which increases the printer's versatility in terms of the types of documents you can print, copy, scan, and fax, the WF-7610 is loaded with convenience and productivity features—just about everything you can think of for a business-ready AIO, and for not too much money, either. However, when it comes to the ongoing cost per page (CPP) of using this printer, it's a bit high for our taste. The CPP is high enough, in fact, that it dampens our enthusiasm for recommending this AIO as the primary printer in an environment with a heavy day-to-day print load.
Epson claims that this AIO's cost per page is "40 percent lower" than laser printers. We don't know about that, but what we can say is that, as described in the Design, Features, & PrecisionCore section next, while some PrecisionCore models have exceptionally low CPPs, the WF-7610 is not one of them. Its CPPs are actually about average for an under-$300 inkjet printer, and perhaps just a little lower than several entry-level and midlevel laser-class printers.
In Epson's defense, you can't find many high-volume printers with significantly low CPPs (say, under 2 cents per monochrome page) for much under $300. We should point out, though, that as of this writing, in July 2013, Epson was offering a $70 "Instant Rebate" on both the WF-7610 and WF-7620, dropping their list prices to $179.99 and $229.99, respectively. That softens the initial cost of this model, but it also brings us back to our only real complaint about this AIO: To match that lower price, its CPPs should be lower.
We also went back and looked over our recent reviews of some other wide-format AIO printers. We discovered that, for the most part, the WF-7610's CPPs were comparable to those of most of them, but were not necessarily competitive with high-volume standard- or letter-size machines. On the whole, the wide-format models were more expensive to use than high-volume document printers in general.
Of course, if you're using this in a home office with more modest page loads, the page cost is less of an issue. And the flexibility afforded by the wide-format support makes up for a lot of sins if you can own just one printer. So the appeal of this printer all hinges on how much you print. Looking beyond the CPP, this WorkForce model is a feature-rich and dependable machine—a nice printer used in moderation.
Read the entire review at Computer Shopper.
---
Earlier this month (June 2014), printer giant Epson replaced its entire line of WorkForce multifunction (print/scan/copy/fax) inkjet business printers with machines based on the company's new PrecisionCore fixed printhead technology. Much like PageWide, HP's fixed printhead equivalent, which debuted in that company's Officejet X multifunction inkjets in mid-2013, PrecisionCore printers are not only faster and cheaper to use than not only Epson's previous WorkForce models, but also several entry-level laser-class printers. (For a description of fixed printhead printers and why they're superior to standard inkjets and their laser counterparts, check out this About.com "Fixed Printhead Inkjet Printers" article.)
Read entire review at About.com.
---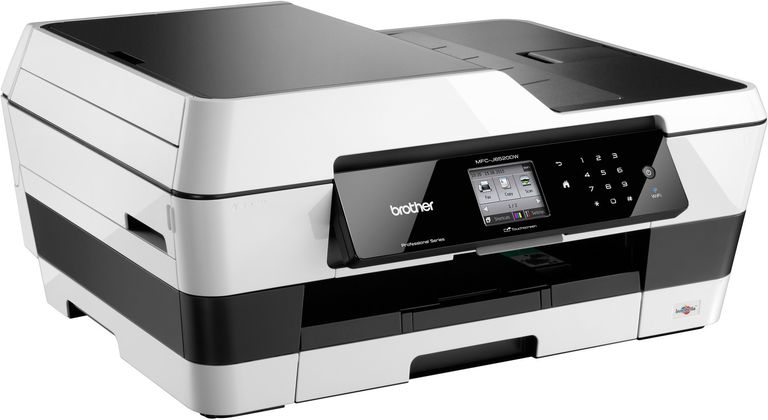 Until recently, Brother made most of the wide-format, or tabloid (11×17 inches) printers on the market. Nowadays, though, most of the other major printer makers are offering several models that can print oversize pages. Still, when it comes to full-featured business-oriented multifunction (print/copy/scan/fax), Brother's tabloid printers, like one I'm reviewing here, the $299.99-list MFC-J6920DW, provide exceptional value.
Read the entire review on About.com.
---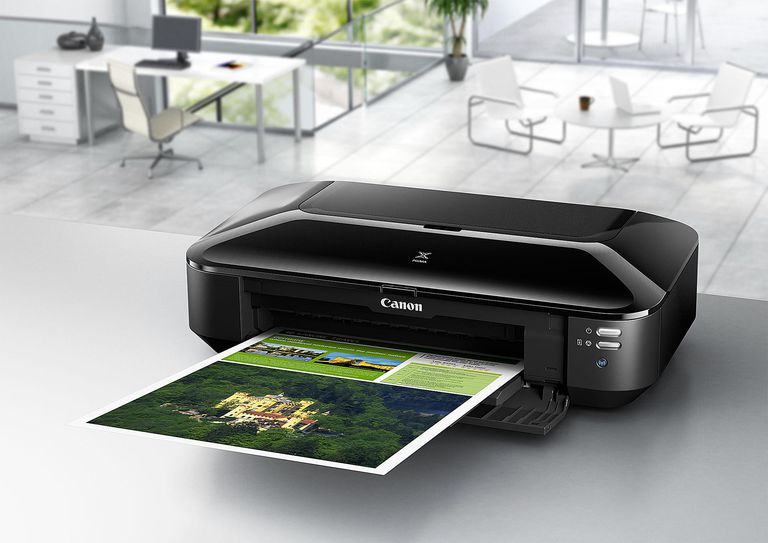 A few years ago, tabloid (11×17-inch) printers were somewhat rare and expensive. Nowadays, though, nearly every major printer manufacturer—HP, Canon, Brother, and Epson—have recently released both single-function and multifunction (AIO) models capable of printing oversize pages in both tabloid and "supertabloid" formats. The $299.99 Pixma iP8720 Wireless Inkjet Photo Printer, the subject of this review, is Canon's latest contribution. It uses the Japanese imaging giant's six-ink print system, which prints some of the-best looking photos available from a consumer-grade photo printer.
Read the entire review at About.com.
---
---