PROS

Fast. Good print quality. High monthly volume ratings. Easy to use. Supports several operating systems and platforms.

CONS

Expensive to use. Lacks Wi-Fi Direct and NFC. Rudimentary control panel.

BOTTOM LINE

The Lexmark C2325dw single-function color laser printer is fast, prints well, and supports several operating systems and platforms, but high running costs make it best for low-volume offices.
---
The Lexmark C2325dw ($269) is a budget single-function color laser printer for light-duty use in small-to-medium-size offices. Like the Editors' Choice Brother HL-L3270CDW, it prints well and at a respectable clip, and it takes up very little desk space. Unfortunately, the price of its consumables is higher than that Brother model, even in a category where bloated long-term costs are par for the course. Otherwise, the C2325dw is a fine low-volume color laser option.
Read the entire review at PCMag
---
---
If you've ever owned a wide-format (in this case, 11″x17″, tabloid and 13″x19″, supertabloid) printer, than you already understand how much more versatile they are than standard- and legal-size (8.5″x11″ and 11″x14″, respectively) machines. Nowadays, all of the major printer manufacturers are making a few wide-format printers. However, the topic of this review, Epson's $199.99 MSRP WorkForce WF-7110 Wireless Printer is one of only a few single-function consumer-grade inkjet printers I'm aware of.
The WF-7110 is part of Epson's recent PrecisionCore-based WorkForce printers rollout. It prints well, and the wide-format option is great, but the cost per page is a bit high, which isn't unusual for a midrange, wide-format printer—single function or otherwise.
Read the entire review at About.com
---
Introduction
You may think of printers as old timers' tech, but they're as varied and vibrant as ever today, with certain of the latest models packing in some amazing physics and cutting-edge connectivity technologies. And because hundreds of models crowd the market, you need to know what their features mean and how to read a printer spec sheet to avoid buying too much—or too little—printer for your needs.
You've probably purchased a printer or three in the past, but if it's been some time, you'll see that printers have changed a lot, especially in terms of how they connect to computers, networks, and—now—mobile devices. And in some cases, their core printing technologies have changed a bit.
If you're in the market for a printer, there's a lot you should know, or get up to date with. We've summarized most of the essential terms, technologies, and specifications you should have a handle on before you buy.
Read entire article at Computer Shopper.
---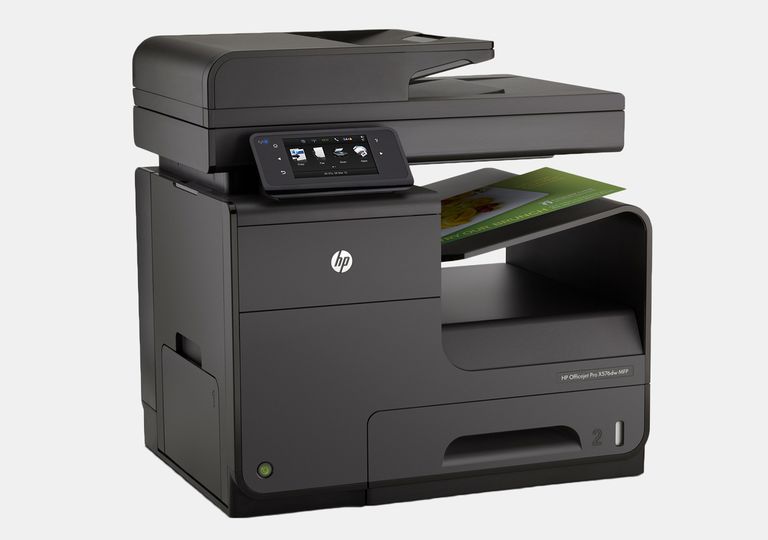 Sometimes, all you need is a quality color printer that sits there month after month churning out great-looking business documents, presentations, and drawings—quickly and efficiently. Historically, when speed and quality were important, small- and medium-size businesses (SMBs) have relied on laser-class (LED or true laser) machines. However, recent developments in inkjet technology—the fixed printhead—have allowed printer makers, such as HP and Epson, to create inkjet printers that rival (and often exceed) entry-level and midrange laser-class machines, in terms of speed, quality, and per-page cost of operation, or cost per page.
Read the entire review at About.com.
---
In this digitally enhanced era we live in, printing scads of business or personal documents is no longer as big a part of everyday life as it was a short decade ago. With the advent of electronic banking, electronic tax filing, electronic mail…well, electronic everything, the personally printed page is becoming increasingly passe and inefficient.
In fact, the "paperless office" (where nobody prints, making the world safe for trees) predicted by last century's pundits is becoming—for some homes and small businesses, anyway—at least a partial reality. Still, even though many people have much reduced how many documents they print, nearly everybody enjoys having printed photos on hand. And that's where old-school, single-function photo printers, such as the $99.99-list Canon Pixma iP7220 Wireless Color Photo Printer we're reviewing today, come in.
Though it's a device primarily optimized for printing photos, the Pixma iP7220 is not a "dedicated" photo printer. It will also print documents, and it supports duplex printing (automatic two-sided output), which means you can print double-sided letters, business documents, or flyers as needed. And, like Canon's other midrange and higher-end photo-centric Pixmas, such as the Pixma MG5420, this one performs its intended tasks—printing exceptional-quality photos and the occasional good-looking document—quite well.
In that regard, much like a few other Pixmas we've tested that use Canon's five-ink imaging system (such as the Pixma MG5420), the iP7220 delivers printed output that looks exceptional, especially photos. However, as with the MG5420, the iP7220's ongoing per-page cost of its ink, is also exceptional—exceptionally high, that is. (We'll talk more about the five-ink system and this model's cost per page, or CPP, in the Setup & Paper Handling section a little later in this review.)
Usually, we ding printers hard if they have high CPPs, especially if they are all-in-one (AIO) models geared toward business-document output. In the case of single-function photo printers, though, where the prime reason for buying one is high-quality image printing, we can accept a higher CPP, so long as the image quality justifies the extra pennies per photo. The Pixma iP7220 certainly meets these criteria. In fact, the only consumer-level printers we know of that print photographs better than Canon's five-ink machines are Canon's own Pixmas that use six inks, such as the multifunction Pixma MG6320 and Pixma MG8220.
As a document printer, the Pixma iP7220 delivers output quality that's about average, and it churns out document pages a little slower than several other competing devices. If you print documents more than "now and then," many, many other printers out there will serve you better than this one. But if you're looking for consistently vibrant, colorful, developer-quality images, we can recommend the Pixma iP7220.
See the full review at Computer Shopper.
---
---
After our recent in-depth look at HP's stellar new OfficeJet Pro X line of high-volume inkjet printers, we're now finding it difficult to get all that excited about a single-function color laser machine of any stripe. Built around the printer giant's new "PageWide" stationary-printhead technology, the OfficeJet Pro X inkjets are equal to, if not superior to, small-office and workgroup color lasers in several ways—but most of all when it comes to the per-page cost of consumables. Competition in the entry- and mid-level business-printer market just got fiercer. A color laser printer needs to be pretty remarkable on several fronts to impress, now.
In fact, the introduction of PageWide-based printers into the business-printer market will most likely cause printer makers, including HP, to reevaluate their color laser pricing and positioning. Recently released color laser models, such as the $329.99-MSRP HP LaserJet Pro 200 Color Printer M251nw we're reviewing here, may well get caught in the crossfire.
Like its multifunction sibling, the $449.99-MSRP HP LaserJet Pro 200 Color MFP M276nw we reviewed a few weeks ago, the M251nw is capable enough in terms of print quality and speed. We liked these printers well enough in isolation, but the far-too-high cost per page (CPP) of their toner makes them impractical for small offices, small businesses, and workgroups that have more than modest print-volume requirements.
In short, the M251nw costs too much to use. That's too bad, because it performed respectably on our benchmark speed tests, and we have no complaints about its print quality. However, we did find its lack of an automatic duplexer for printing two-sided pages disappointing. It's not often that we see an over-$300 printer these days come without support for unassisted two-sided printing. Also concerning was this model's somewhat small—small for a laser printer, that is—150-sheet input drawer.
In fact, the more we consider it, the more M251nw looks to us like a "personal" color laser printer in a high-volume printer's body—because the biggest trait of personal lasers, when it comes right down to it, is that they are designed not to be used all that much. That's at odds with HP's recommended maximum monthly duty cycle of 30,000 pages for this printer. But if you print that many pages (or even close) on the M251nw, it will cost you plenty extra compared to higher-cost, higher-volume models over time.
In sum, we see the M251nw as a low-volume laser printer, which really is a bit of an oxymoron when it comes to lasers at this price. You can find plenty of lower-cost inkjet models out there that print business documents almost as well—and for less money per page. We liked this machine's print quality, but given the competition, only small offices and workgroups with very limited print-volume needs will find the M251nw a sensible pick.
See complete review at Computer Shopper.
---
---