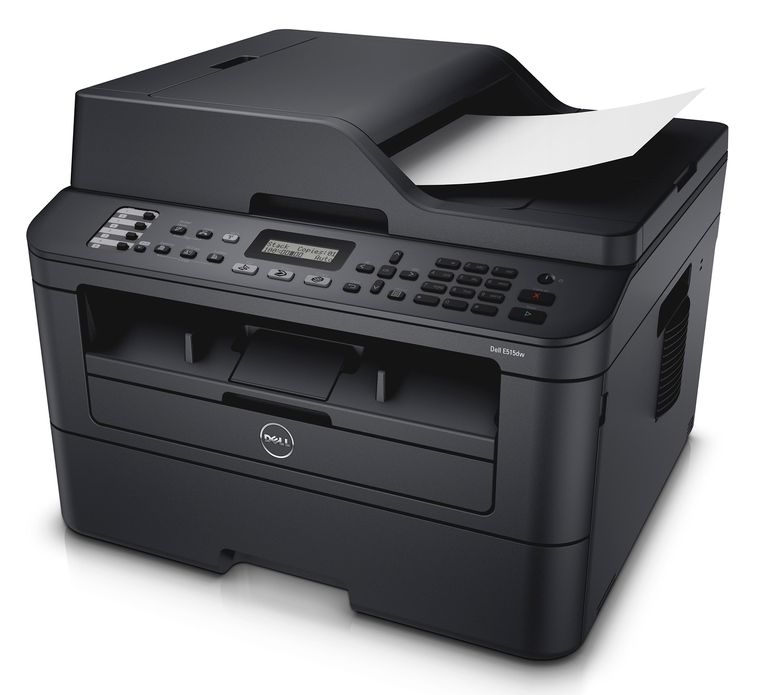 I've looked at several monochrome printers recently, and a few of them were multifunction (print, copy, scan, and fax) printers, or MFPs. One that stood out was OKI Data's MB492 Multifunction Printer. It printed good-looking black-and-white pages quickly and at a highly competitive cost per page—less than 1-cent per page in some scenarios.
That, of course, was a high-volume machine; even so, with its $599 MSRP, it was a darn good value.
This review, though, is of a low-volume monochrome MFP, Dell's $219.99 E515dw Multifunction Printer. If yours is a low-volume monochrome printing volume with the occasional need for copying, scanning, and faxing, you should definitely take a closer look at this printer.
This past couple years, 2013 and 2014, we've seen a number of high-volume all-in-one (print, scan, copy, and fax) inkjet printers designed solely as laser-class printer replacements from Brother, Canon, Epson, and HP. Not only are these machines fast, they have strong feature sets, they print well, and they have relatively low CPPs, or cost per page.
In fact, to qualify for this list, the MFP must have a monochrome (the type of pages businesses print most) cost per page of under 2 cents. As I've said here before, inherent in the claim "high-volume" is the understanding that the machine will print hundreds, even thousands, of pages each month at a very reasonable cost per page
Read the entire review at About.com.
---
One of the best multifunction inkjets we looked at in its time (back in 2012) was Epson's high-volume WorkForce Pro WP-4590 All-in-One Printer, a flexible $499.99-list workhorse machine. If you weren't wedded by function, or by law, to laser-printed output, it was practically everything you'd want in a printer designed for a workgroup in a small or medium business (SMB). The WP-4590 served up exceptional print speeds and overall print quality, plus just about every convenience and productivity feature you could think of. Most crucially, it did all of that at an exceptionally low cost per page (CPP).
At the time, we considered the WP-4590 one of the best business-printer values available, and we still hold it in high regard. But now, we feel much the same way about 2014's $299.99-list WorkForce Pro WF-4630 All-in-One Printer, the topic of this review. It hits that same rare balance that the WP-4590 did among SMB printers, of sheer feature depth, performance, and output quality, paired with a very fair CPP.
The WorkForce Pro WF-4630 is one of 11 models in the company's dramatically refreshed WorkForce line of business printers, released in June 2014. All 11 models were built around Epson's new, speed-enhancing PrecisonCore printhead technology. The first one we reviewed, the wide-format WorkForce WF-7610, won an Editors' Choice award. And this one makes Epson's PrecisionCore-based printers 2-for-2 so far.
In the case of this "Pro"-level model, it's as fast as most entry-level and midlevel laser-class machines. Also, as we discuss in the Setup & Paper Handling section a little later in this review, certain PrecisionCore models, this "Pro" version included, deliver very aggressive CPP figures. That tends to be the missing piece in a moderate-price SMB inkjet, but Epson nails it here while keeping the fundamentals strong.
Also know that you have some paper-handling flexibility here. In addition to the WorkForce Pro WF-4630, Epson offers the $399.99 WorkForce Pro WF-4640. The difference is that it comes with a second 250-sheet paper drawer, for a maximum potential capacity of 580 sheets from three different input sources. (More detail later on that, too.) Both models also have auto-duplexing automatic document feeders (ADFs), for streamlined handling of two-sided multipage originals, and both have a quite-healthy 30,000-page maximum monthly duty cycle. ("Duty cycle" is the highest number of prints the manufacturer recommends in a given time period without inflicting undue wear and tear on the printer.)
In fact, the WorkForce Pro WF-4630 is one of those rare machines about which we found very, very little to grumble. It prints well; it's fast; it's loaded with features; and it's inexpensive to use, not to mention highly attractive and durable. If you're looking for a high-volume, high-quality multifunction inkjet with a terrific CPP, this is it.
Read the entire review at Computer Shopper.
---
Looking for a plain vanilla Laser MFP at a low cost? Check out the Brother MFC-7460DN. It's not all that great a photograph copier and scanner,  though. See the review.
While toner and and the overall cost of operation is high, this All-in-One (AIO) multifunction (MFP) printer provides exceptional print, scan, and copy quality.
See the full review at: Computer Shopper.
---
---