PROS

Excellent print quality. Competitive price. Supports Wi-Fi Direct. Prints super-tabloid pages. High duty cycle.

CONS

No multipurpose tray or slot. Out-of-box paper capacity doesn't match high duty cycle. No flash memory device support.

BOTTOM LINE

The high-volume Epson WorkForce Pro WF-C8190 is a competitively priced wide-format printer that's fast and prints excellent-looking documents up to super-tabloid size.
The Epson WorkForce Pro WF-C8190 ($799.99) is a wide-format printer that can support up to super-tabloid (13-by-19-inch) media. It's an update to the WorkForce Pro WF-8090, but boasts an all-new classier design, a friendlier control panel, and much-improved print quality. It also has a reasonable price, low running costs, and high duty cycle, making it our top choice for midrange wide-format printers.
Read the entire review at PCMag
---
---
PROS

Prints up to 13-by-19-inch pages. Scans, copies, and faxes multipage, two-sided originals up to 11 by 17 inches. Auto-duplexing ADF and scanner. Large, easy-to-use control panel. Good overall print quality.

CONS

High cost per page. Graphics printing could be better. Only one paper cassette.

BOTTOM LINE

The Epson WorkForce WF-7710 prints, copies, and scans wide-format pages with ease, but it doesn't quite stand up to its formidable competition.
The Epson WorkForce WF-7710 Wide-Format All-in-One Printer ($249.99) is a super-tabloid all-in-one (AIO) capable of borderless prints up to 13 by 19 inches. It also scans, copies, and faxes up to tabloid size (11 by 17 inches).However, the WF-7710 costs significantly more to use than our Editors' Choice Brother MFC-J6935DW, and its paper capacity is less than half. It's worth considering the WF-7710 if you need to print super-tabloid size pages (the Brother model can only handle up to tabloid size), but otherwise, the Epson is a perfectly good printer that faces some very stiff competition.
Read the entire review at PCMag
About a year ago, About.com reviewed several of Epson's PrecisionCore-based multifunction printers (MFPs), including the notable wide-format WorkForce WF-7610 All-in-One. What impressed me most about it, aside from it being an excellent
It's an excellent size for posters and oversize spreadsheets, and much more. Aside from a slightly too-high per-page cost of operation, the only thing we really didn't like about the WF-7610 was that it had only one paper drawer, which really isn't practical for an oversize printer, unless you plan to print only wide-format pages, that is.
Epson, of course, offers a solution in its $299.99 WF-7620—essentially the same wide-format printer with an additional 250-sheet paper cassette tacked on at the bottom, for (when you include the rear 1-sheet override tray) a total of 501 pages from three input sources, which isn't bad for an under-$300 wide-format inkjet.
Read entire review at About.com
---
If you've ever owned a wide-format (in this case, 11″x17″, tabloid and 13″x19″, supertabloid) printer, than you already understand how much more versatile they are than standard- and legal-size (8.5″x11″ and 11″x14″, respectively) machines. Nowadays, all of the major printer manufacturers are making a few wide-format printers. However, the topic of this review, Epson's $199.99 MSRP WorkForce WF-7110 Wireless Printer is one of only a few single-function consumer-grade inkjet printers I'm aware of.
The WF-7110 is part of Epson's recent PrecisionCore-based WorkForce printers rollout. It prints well, and the wide-format option is great, but the cost per page is a bit high, which isn't unusual for a midrange, wide-format printer—single function or otherwise.
Read the entire review at About.com
---
It's not often that we see big changes in printer imaging technology—at least not in the print mechanisms themselves. Both inkjet and laser printer technologies have been around for a while, and, for the most part, they have become predictable and stable. Over the past couple of years, though, a couple of printer makers, namely HP and Epson, have done some serious fiddling around with their printheads. Both companies have come up with more-efficient printhead technologies that are less expensive to use. And as a result, certain of their new printers are capable of competing successfully with laser-class printers on many fronts, notably speed, power consumption, and cost per page (CPP).
The first of these "alternative" printhead technologies, HP's PageWide, debuted in a line of high-volume Officejets—the Officejet Pro X series—at the beginning of 2013. We were impressed enough with the two Officejet X models we reviewed (the Officejet Pro X576dw Multifunction Printer and the Officejet Pro X551dw Color Printer) that both received our Editors' Choice Award. Their print speeds and quality were impressive, and the cost per page was low. Much of this was possible because PageWide employs a fixed array of print nozzles that spans the width of the page, rather than the printer relying on the usual moving printhead. In a nutshell, the way it works: The paper moves past the print nozzles, rather than the other way around, and your image or document gets printed a full row at a time.
Both of the Officejet Pro X printers, however, were relatively high-end, high-volume, and high-priced machines meant for business use. Epson, on the other hand, has taken a different approach, as we'll lay out in this, our first review of an Epson printer based on its recently debuted PrecisionCore printhead technology—the $249.99-list WorkForce WF-7610 All-in-One Printer. Similar to PageWide, in that the ink nozzles on the printheads are much denser, the PrecisionCore-based printers we've tested so far have outperformed several of their inkjet and laser counterparts, and some of them are cheaper to use, too. (We'll get into more detail about PrecisionCore in a bit.)
The WF-7610 is one of 11 PrecisionCore models that Epson debuted last month. In a bold move, Epson just up and replaced its entire WorkForce line of small- and medium-business (SMB) AIOs with PrecisionCore-based models. The WF-7610 is one of two wide-format PrecisionCore machines in the initial lot, capable of printing on sheets up to 13×19 inches (also known as "supertabloid" stock). It can also copy, scan, and fax tabloid (11×17-inch) pages. The other wide-format model in the new line, the $299.99-MSRP WorkForce WF-7620 All-in-One Printer, is much the same machine, but with a second 250-sheet drawer.
In addition to being a wide-format machine, which increases the printer's versatility in terms of the types of documents you can print, copy, scan, and fax, the WF-7610 is loaded with convenience and productivity features—just about everything you can think of for a business-ready AIO, and for not too much money, either. However, when it comes to the ongoing cost per page (CPP) of using this printer, it's a bit high for our taste. The CPP is high enough, in fact, that it dampens our enthusiasm for recommending this AIO as the primary printer in an environment with a heavy day-to-day print load.
Epson claims that this AIO's cost per page is "40 percent lower" than laser printers. We don't know about that, but what we can say is that, as described in the Design, Features, & PrecisionCore section next, while some PrecisionCore models have exceptionally low CPPs, the WF-7610 is not one of them. Its CPPs are actually about average for an under-$300 inkjet printer, and perhaps just a little lower than several entry-level and midlevel laser-class printers.
In Epson's defense, you can't find many high-volume printers with significantly low CPPs (say, under 2 cents per monochrome page) for much under $300. We should point out, though, that as of this writing, in July 2013, Epson was offering a $70 "Instant Rebate" on both the WF-7610 and WF-7620, dropping their list prices to $179.99 and $229.99, respectively. That softens the initial cost of this model, but it also brings us back to our only real complaint about this AIO: To match that lower price, its CPPs should be lower.
We also went back and looked over our recent reviews of some other wide-format AIO printers. We discovered that, for the most part, the WF-7610's CPPs were comparable to those of most of them, but were not necessarily competitive with high-volume standard- or letter-size machines. On the whole, the wide-format models were more expensive to use than high-volume document printers in general.
Of course, if you're using this in a home office with more modest page loads, the page cost is less of an issue. And the flexibility afforded by the wide-format support makes up for a lot of sins if you can own just one printer. So the appeal of this printer all hinges on how much you print. Looking beyond the CPP, this WorkForce model is a feature-rich and dependable machine—a nice printer used in moderation.
Read the entire review at Computer Shopper.
---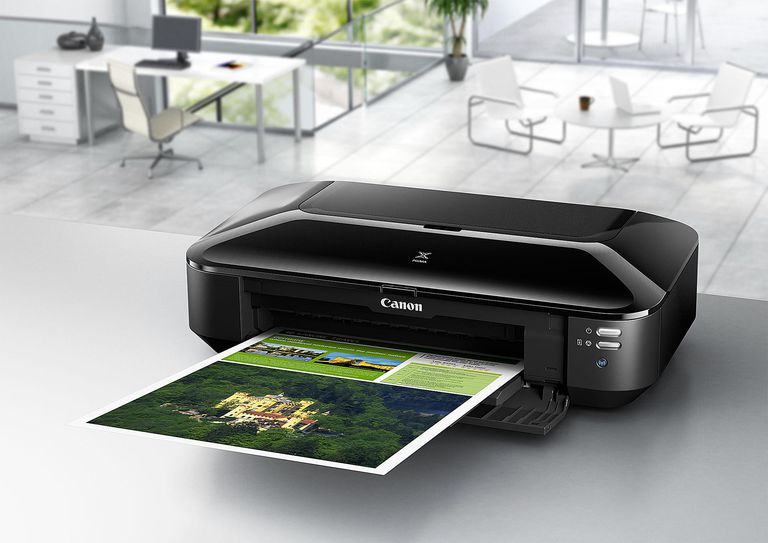 A few years ago, tabloid (11×17-inch) printers were somewhat rare and expensive. Nowadays, though, nearly every major printer manufacturer—HP, Canon, Brother, and Epson—have recently released both single-function and multifunction (AIO) models capable of printing oversize pages in both tabloid and "supertabloid" formats. The $299.99 Pixma iP8720 Wireless Inkjet Photo Printer, the subject of this review, is Canon's latest contribution. It uses the Japanese imaging giant's six-ink print system, which prints some of the-best looking photos available from a consumer-grade photo printer.
Read the entire review at About.com.
---
---